For many years, India has been ruled by British and their impression can be seen during a visit to Darjeeling as well. The colonial style buildings, amazing architecture always attracts tourists towards the attractions in Darjeeling. Not only that, Darjeeling has always been famous for its natural sightseeing and greeneries.
The pleasant weather, delicious food, and hospitable locals are Darjeeling's pride. It is probably the most visited hill station in India. "The Queen of the Hills" offers everything for a nature lover. Enjoy an adventurous journey with your friends or a romantic one with your partner in Darjeeling. If you are interested in visiting here, then you can contact Jayanti Travels for the best Bagdogra Airport to Darjeeling taxi service. You can also hire a taxi from NJP to Darjeeling with fares stated below from Jayanti Travels.
Transfer From Bagdogra/NJP to Darjeeling
4 Pax Car - INR 2500
8 Pax Sumo - INR 3000
07 Pax Innova/Tavera - INR 3500
24 Pax Coach - INR 6700
Transfer From Darjeeling to NJP via Mirik
4 Pax Car - INR 3200
8 Pax Sumo - INR 4000
07 Pax Innova/Tavera - INR 5500
24 Pax Coach - INR 6700
Darjeeling is dotted with lots of destinations to be visited by you. They are historic, romantic, or adventurous but all of them offer enjoyment and tranquility.
Below is the list of top 25 breathtaking places to visit in Darjeeling
1-Tiger Hill
"When best of the views r in front of u, why to look somewhere else.."#tigerhill #sunrise #darjeeling December, 2017 pic.twitter.com/ichMqj6nVd

— Tushar Singla (@tusharsinglaIAS) May 23, 2018
Situated at a distance of 11 km from the main town, Tiger Hill is one of the highest points of Darjeeling and of the most visited Tourist places to visit in Darjeeling. It is situated at an elevation of 2,590m. It is most famous for its Sunrise View, for which travelers gather here at the dawn. Not only that, it also offers a panoramic view of the Mount Everest and Kanchenjunga along with some other peaks like Rathong, Kabru, and Kokthang.
2-Padmaja Naidu Himalayan Zoological Park
At the Padmaja Naidu Himalayan Zoological Park, Darjeeling. This Himalayan bear just refused to look up. Maybe he was sulking? Or just napping? Whatever, he was like that for a longish time! #incredibleindia #pbloggers #lbloggers #traveldiaries #ig_bengaluru #visionofpictu… pic.twitter.com/mISYVdm9IW

— Vidya Sury (@vidyasury) April 14, 2018
Padmaja Naidu Himalayan Zoological Park is among the most famous zoos of North East India. It is situated at an altitude of 2133.5m. Animals that are adapted to alpine conditions are the main attractions here. It is a home to many rare species of animals, such as- Red panda, Snow Leopard, Siberian Tiger and Himalayan Wolf.
3-Batasia Loop
From the Gorkha Memorial at the Batasia Loop of the Darjeeling Himalayan Railway, I wish you all a pleasant evening and a restful night. xx pic.twitter.com/9jXw1190md

— Noor un Nisa ? (@OrientalEnigma) October 3, 2016
One of the most famous places in Darjeeling, Batasia Loop was constructed by the British. It is situated at a distance of 5km from the main town of Darjeeling. A war memorial is created at the center of the garden in honor of the Gorkhas who died during India's Independence Revolution. The Toy Train makes a complete loop and takes a turn of 360 degrees here. Covering an area of 50,000 sq ft, Batasia Loop is decorated with a well-manicured garden. Along with lots of restaurants and eateries, the Loop also has an Eco Garden.
4- Himalayan Mountaineering Institute
Its Proud to visit Himalayan Mountaineering Institute Darjeeling & interact with Principal pic.twitter.com/SHf1NNLsIs

— Kirit Somaiya (@KiritSomaiya) April 23, 2018
Himalayan Mountaineering Institute is a must visit destination in Darjeeling. It is situated in the premises of Padmaja Naidu Himalayan Zoological Park. It was built in memory of Tenzing Norgay and Sir Edmund Hillary who climbed Everest in 1953. It is now a boarding school for mountaineering students where you can get all the necessary pieces of equipment for trekking.
5-Rock Garden & Ganga Maya Park
Catch sight of #Darjeeling the #QueenOfHills of #WestBengal in #IncredibleIndia .It's famous for Darjeeling Himalayan Railway, Rock garden,Tiger hill and Buddhist Monasteries .It's rich variety of flora and fauna makes it really delightful.It's too scenic to miss.Do Visit Soon pic.twitter.com/diykMJc9mL

— MAYUR RATAN (@mayurratan24) December 10, 2017
Located at a distance of 10 km from Darjeeling town, Rock Garden is a must visit spot in Darjeeling. Ganga Maya Park is located merely 3 km away from here. Rock Garden is created with the help of beautiful rock cuttings. a scenic waterfall cascades down these huge boulders. Boating in the lake in Ganga Maya Park will be an excellent experience for you.
6-Darjeeling Mall
Great time at Glenary's, Darjeeling. Here is my blog post : https://t.co/PvZGetdeFv#Darjeeling #Mall #cafe #restaurant @aalok_sathe pic.twitter.com/iypUdJk40D

— Milind Sathe (@milindsathe2206) April 12, 2017
Mall is located in the heart of Darjeeling. It is one of the popular tourist hangout places. Along with a breathtaking view of the mountain peaks, it also contains a lot of shops selling local handicrafts, traditional garments, paintings, carpets & pieces of jewelry. The Hawa Ghar and the golden statue of Nepali poet Bhanubhakta Acharya are the major attractions. Some famous shops on the Mall Road are Nathmulls, Life & Leaf, Habeeb Mallick & Sons, etc.
7- Peace Pagoda
The peace pagoda was built for establishing peace and riddance from natural calamities such as earthquakes.Surprisingly, they say that the statistics and severity of the same have significantly reduced. #Buddha #statue #peacepagoda #temple #tourism #travel #Darjeeling #mountains pic.twitter.com/EUQca829JF

— Monica (@MonicaK1995) May 11, 2018
Japanese Peace Pagoda is among the most peaceful and beautiful places in Darjeeling. It was inaugurated in 1972 and is a two-storied white building. It is the symbol of spirituality & peace. On the walls of the Pagoda, four golden statues of Buddha and eight sandstones has been carved. Visit the place for refreshment and inner tranquility.
8-Tibetan Refugee Self Help Centre
Tibetan Refugee Self Help Centre is home to 130 Tibetan families. It was established on October 2, 1959, when His Holiness the Dalai Lama migrated from Tibet, followed by other Tibetans. The place is very unique as it is a live workshop of handicrafts. You can visit the place and discover how Tibetan artisans manufacture amazing hand-crafted souvenirs for you to buy.
9-Ghoom Monastery
Add a cultural element to your stay with us at Glenburn - visit the stunning Ghoom Monastery on the way to Darjeeling pic.twitter.com/IZpvcwGwmu

— Glenburn Tea Estate (@Glenburn_India) April 22, 2015
Ghoom Monastery is among the major Buddhist pilgrimage centers in Darjeeling. It was built by Lama Sherab Gyatso in 1875. It is situated at a distance 8 km from Darjeeling city. A 15 feet high statue of "Maitreya Buddha" is seated in the monastery along with striking images of Buddha's disciples.
10-Dali Monastery
Sunset meditation at the Dali Monastery, Darjeeling -----#darjeeling #india #wanderlust #… https://t.co/Y92KgfrWbx pic.twitter.com/qUoIDXDUbO

— Adam Richardson (@adamgbr) October 20, 2016
Dali Monastery is another important pilgrimage center in Darjeeling. It is located at a distance of 5km from Darjeeling city. It is also known as Druk Sangag Choling Monastery which was built on 1971. It exhibits an amazing work of traditional Tibetan architecture. Over 200 monks live here and it also has a Tibetan School, a Prayer Room, and a Coffee Shop.
11- Bhutia Busty Monastery
Located 2 km down from the Mall Road, Bhutia Busty Monastery is a must visit spot during your trip to Darjeeling. At first, it was built at the Observatory Hill in 1761 & then it was relocated in 1879 to its present location. A huge number of Old Buddhist Scripts can be found here and "Book of Dead" is notable among them. Tourists get attracted towards it for its architectural beauty which depicts Buddhist traditional style of craftsmanship.
12- Aloobari Monastery
[caption align="alignnone" width="640"]
Image Courtesy: http://tourismdarjeeling.com/aloobari-monastery-mag-dhog-yolmowa-monastery/[/caption]
Aloobari Monastery is located 3 km away from Darjeeling Town. It was built in 1914. Its architecture is amazing, adorning red & yellow walls. The original name of the monastery was Yolmowa Mak Dhog Monastery. The surrounding villages are inhabited by Tibetan families. The monastery has statues of Lord Buddha, a prayer hall, a model of Padmasambhava and paintings on the life story of Lord Buddha.
13- Happy Valley Tea Gardens
One of the most prized tea in the world is from the Happy Valley tea gardens of Darjeeling. Their customer loyalty is spread over generations. Will be back with more about Happy Valley soon.. pic.twitter.com/hF3Q6BfCZ5

— Debadrita Bose (@JustJuning) October 14, 2017
Located at a distance of 2.8km from Darjeeling town, Happy Valley Tea Gardens is a beautiful place. It is a part of most sightseeing tours. Here, you can discover the actual process of Tea manufacturing. They use the old method of tea production. Nothing can be better than a cup of Darjeeling tea in your hands on a chilled morning.
14- Shrubbery Nightingale Park
Have you ever heard about the Shrubbery Nightingale Park@ Darjeeling?Alternative to Tiger… https://t.co/CLKC87daA6 pic.twitter.com/YzZYddjYrj

— Tania & Sayan (@azureskyfollows) May 2, 2017
Shrubbery Nightingale Park is situated at a 10 min walking distance from Mall. It is a great place for relaxation. The musical fountain is the major attraction of the park. Nepali cultural programs are organized here. An idol of Lord Shiva is inside the park. The park is crisscrossed by many pebbled walkways.
15-Observatory Hill
Know it all about Observatory Hill, Darjeeling https://t.co/2cJkjiAIwG #ttot #IndiaTravel #DenmarkSSP pic.twitter.com/mYbSkDLB8u

— Barkha Dutt (@burkha_dutt) October 18, 2017
Observatory Hill is located at a distance of 1.8 km from Darjeeling town. It is the oldest site of Darjeeling which is also known as Makal-Babu-Ko-Thaan. According to the mythical stories, Lord Indra's scepter had fallen here at the Observatory Hills. The temple of Mahakal is a popular tourist's attraction now. It also provides a marvelous view of the snow-capped Kanchenjunga.
16- Darjeeling Himalayan Railway
The Darjeeling Himalayan Railway pic.twitter.com/VZt58vr06z

— Trooper (@pnkjshm) December 25, 2017
Darjeeling Himalayan Railway was inaugurated in 1880 and run up to a height of 7,000 ft. It is one of the oldest & highest railwaylines in the world. UNESCO declared it as a World Heritage Site. It functions between New Jalpaiguri Station and Darjeeling in West Bengal. The Toy Train covers a distance of 78 km from Siliguri to Darjeeling crossing 13 stations. You should definitely book a Joy-Ride with Darjeeling Himalayan Railway to admire its world-class architecture and scenic beauty of the surroundings during the ride.
17- Rangit Valley Passenger Cable Car
The #Darjeeling #tea experience, made more exciting with this very un-alpine cable car ride over the gardens pic.twitter.com/uF6nGkMyaN

— Bijoy Venugopal (@bijoyv) April 12, 2015
Hope in the Rangit Valley Passenger Cable Car during your trip to Darjeeling. It is also known as the Ropeway that connects Darjeeling with Singla Bazaar at the bottom of the valley. The ride takes you through an elevation of 7,000 ft. A terminal station is located 3 km away from the main town, near the Himalayan Mountaineering Institute. You will enjoy the travel through the clouds and the greeneries beneath will take your heart.
18-Dhirdham Temple
Built in the year 1939, Dhirdham temple is one of the oldest Hindu shrines in the city of Darjeeling! pic.twitter.com/DsENp4iiUO

— Shubh_Tv (@ShubhTv_India) February 5, 2016
Dhirdham Temple is another important visiting spot in Darjeeling. It is dedicated to Lord Shiva. It holds the replica of the Pashupatinath Temple in architectural form. Built in 1939 by Purna Bahadur Pradhan who was the king of Nepal. A white statue of Lord Shiva is the major attraction of the place. It represents five different expressions of Shiva with his thirds eye. You can spend some time here for inner tranquility.
19-St. Andrew's Church
St Andrew's church, Darjeeling, built 1843.#standrews #church #Darjeeling #history #architecture #British #colonial #Raj #indiapictures pic.twitter.com/JINm2nMVLz

— Ankush Saikia (@ankushsaikia) December 16, 2016
St. Andrew's Church is another visiting spot in Darjeeling which is close to Mall. At first, it was built in 1843 and then it was reconstructed in 1873 after it was demolished by an earthquake. Lt. General Llyod's and Charlotte Countess Canning's marble tablets are the church's main attraction.
20-Senchal Lake and Wildlife Sanctuary
[caption align="alignnone" width="800"]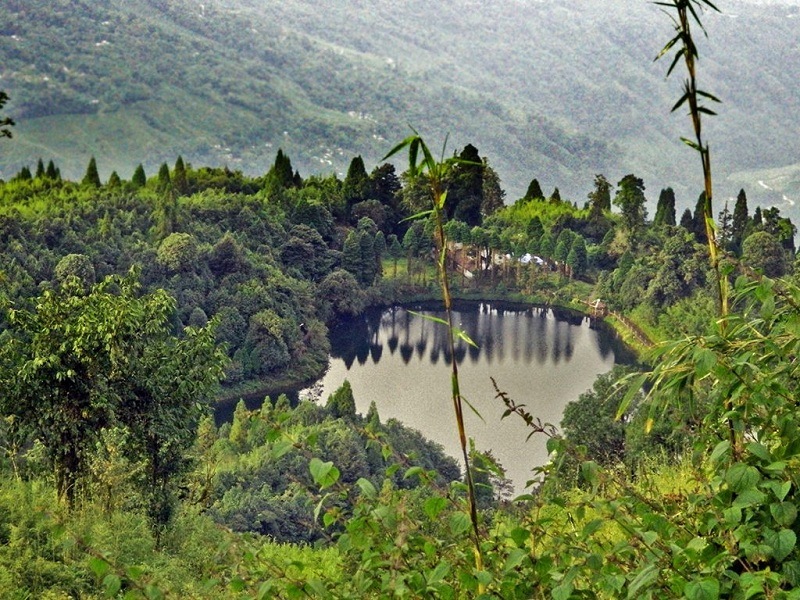 Image Courtesy: www.trawell.in/west-bengal/darjeeling/senchal-lake-wildlife-sanctuary[/caption]
Senchal Wildlife Sanctuary is one of India's oldest wildlife sanctuaries. It was set up in 1915 and is a perfect place for nature lovers. It is situated 11km away from Darjeeling town. The Senchal Lake inside the sanctuary provides a picturesque view of the surroundings. Rare species of animals that are found here are wild boar, leopard, Barking Deer and Himalayan Black Bear.
Darjeeling, "the Queen of the Hills" deserves to be visited at least once in your life. Its history is interesting, its food is finger licking and words fall short when the beauty of the place is described. If you are interested in visiting Darjeeling then you can contact car rental agency and tour operators -Jayanti Travels in Siliguri for the best Darjeeling tour packages at affordable rates and you must visit the Darjeeling tourist places as discussed so far. They offer online taxi booking from Bagdogra to Darjeeling for your convenience. Pay a visit here and bring back unforgettable memories.
---